In these days of deep digging into RaspyFi optimizations, you know, music was my best friend. I've been quite pleased with the quality improvements I reached with the current Beta.
But today the postman knocked on my door. And nothing is gonna be like yesterday (maybe exaggerating lol).
He got me an xmos usb receiver I ordered from China some time ago. It features a brand new xmos receiver, a damn efficient oscillator and some pretty  coupling capacitors.
Incidently I also have an i2s dac lying around. Well, I thought, I can connect em just to see if it works, then I'm gonna back to work. So, connected 12 v dc to the dac (from a stabilized linear psu) I got lying around, connected via i2s, connected via RCA to my hybrid pre… And then… Magic happened.
This combo sounds astonishingly good! What a detail, what a prat, what a soundstage! It even makes me look more handsome!
So I am so happy I wanted to share briefly this with you. This combination sounds really awesome.
Guess you want the recipe, don't you?
1- Get RaspyFi, if you didn't, and flash the 1.0 beta
2- Get this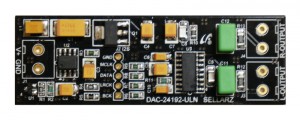 These are the specs:
● ES9023 DAC Chip
● 0.1% Low Noise Thin Film Resistors at Signal Pass and Regulator Circuit
● Low ESR Tantalum Capacitor
● High Quality SMD Film Capacitor
● WIMA FKP2 Capacitor for Output Filter
● Ultra Low Noise Regulator Circuit
- Noise: 8nV√Hz @1KHz
- PSRR : 106dB
● Gold Plated PCB
● Size: 71 x 24(W x D:mm)
<Specificatron>
● I2S Input(MCLK, DATA, LRCK, BCK, GND)
● Dynamic Range : 112dB
● Output Level : 2.0V RMS
● THD + NOISE : 0.002%
● Resolution/Sampling Rate : Up to 24bit/192KHz
● DC Offset : <4mV
● Supply : Regulated or Unregulated 6~20Vdc/31mA
And trust me guys, it's well worth it. And it costs less than 40 euros!!!! A sabre dac! It is compatible out of the box with linux (RaspyFi of course) and mac. And it comes with a very feature-rich driver for Win.
UPDATE
You can also have this DAC, as an alternative:
I received mine few days ago, so haven't tried it yet. So I cannot say anything on this DAC, only that is compatible with the i2s transport listed above
Then,
-Get this
Here the specs, again:
XMOS 384kHz high-quality USB to I2S PCB with ultralow noise 6.5uV regulator
This is the best USB to I2S PCB for audiophile Diyer to enjoy.
Feature:
1) Newest XMOS chip and uses 48MHz oscillator to asynchronous reclock usb audio data to I2S line, old XMOS uses only 13Mhz oscillator, over 4x better jitter rejection theoretically.
2) 6.5uVrms Ultralow noise linear power regulator (use of decade old LM317/1117 regulator is kidding for audiophile)
3) Solid ground plane (a must for high speed digital circuit)
4) No Via in active circuit (via inductance always create jitter problem)
5) FOX ultra low ppm oscillator and Murata capacitor sourced from Digikey USA (guarantee no fake product from China)
6) Gold plate USB connector (Molex, FCI, or other depends on stock)
7) Compact size 50mm x 30mm
8) PCB is USB powered(default). Diyer expert can remove FB1 and use 5V external power connect to CN1(warning: over-voltage or reverse-voltage can damage the xmos chip immediately, any modification void item warranty)
9) Extreme diyer can cut and install series resistor in the pre-allocated 0805 footprint space in the I2S line to match their DAC line impedance
No drivers needed for MAC OS version 10.6.4  and above
No drivers installation required for Linux with UAC2 compliant kernel
ASIO/KS/WASAPI/Direct Sound drivers for Windows XP to 8 (32 and 64 bit)
Fully featured Thesycon driver package (without 30 min. periodic beeps)
UPDATE :
I'm currently building another step up of my Reference DAC. It sits on a completely different level from the ones you have seen before on RaspyFi, in terms of performance, build complexity and pricetag. But on paper, it seems that I'm gonna end up with something truly impressive. It will feature :
The top end ESS SABRE 9018, in a 7.1 configuration (yeah, I really meant 7.1)
XMOS2 USB Input via i2s
Optical and coaxial input
Both balanced and unbalanced analog out
Separate and improved clock
The Recipe is :
So, on paper, this DAC could be an ending point for every audiophile around. But its building is something really challenging, so please start this adventure only if you are an experienced DIYer. I'm going to document the building of this DAC in a future article, since it really deserves a careful and comprehensive explanation. I looked out for months to find the best recipe for me, this is what I ended up with. So again, if you want something really over the top this is what you're looking for, mind that it's gonna need quite some time and expertise to be built.
This combination, xmos2 usb receiver + i2s dac sabre 9023 connected via i2s is the best dac I had so far. And it's something really bang for the buck, as chuck norris could say, if you think that it costs only around 90 euros! You only have to find a good case and a good psu.
This is how it is sounding today, and if I think that the i2s connection wire is 10 cm long, I'm even happier. I will cut them ending with a 2 cm wire, feed it with 2 separate shunts (the receiver can be fed with it's own psu, isolating it from usb's crappy dc). And then heaven…
Connecting them is extremely easy as well, even my gf could do it…

Guys, once again, trust me. You're gonna build a killer music player for less than 150 euros. RaspyFi + Xmos2 + Sabre9023 and your hi-end friends are gonna be sooo sad when listening to what you have for that!!!!
I'll keep you updated with the building of my reference dac, and review it more deeply. Now is only to share the joy! You'll gonna thank me!